Omnii
The source of innovation and competitive edge.
The Road to a Seamless Customer Journey
Access to good quality data is essential for a company to successfully meet the changing expectations of their customers. A consumer can today access information through so many channels that it becomes difficult for a business to manage expectations. The aim is to achieve a seamless and meaningful customer journey regardless of the channel the customer chooses to use.
With Omnii, you can break the barriers that block the interaction between the various channels and create a comprehensive communication and user experience for your customers.
Insight that Produces Results
Teach your organization to succeed digitally
Being a learning organization means being able to streamline your business by understanding mission-critical processes and customer behavior.
Omnii increases insight and expertise on how to attract, convert, sell and inspire. With Omnii you can cut costs in your business, create automated routines with the help of AI, robotics or streamline customer service with smart chatbots.
Omni Channel Data Capture
A hub for integrations.
The concept of Omnichannel data capture is to gather data from multiple channels and making it available for more efficient decision making. The more information we have about consumer behavior the more likely we are to build products and services that meet existing need states.
Another application of Omnichannel data capture is to predict and consequently influence behavior based on historical data across multiple channels.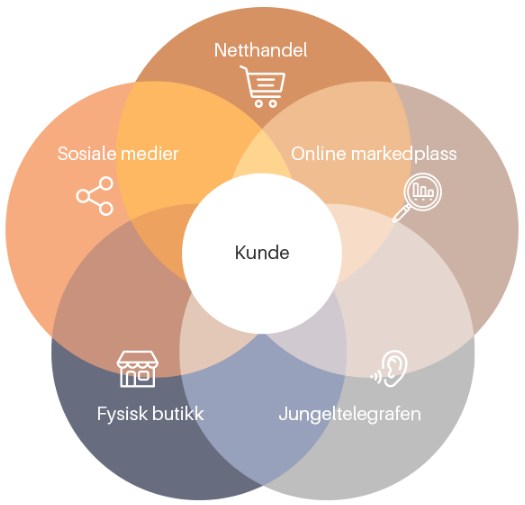 Omni Channel Marketing
Omnichannel is a recent concept often used and discussed in context of a digital strategy. But what exactly is it and how does it relate to marketing?
Omni-channel means many channels, anywhere and anytime. Therefore, Omnikanal marketing is primarily about finding out which channels your customers prefer and how to use them.
A lot of online communication is intended to create offline sales and vice versa. It is important to understand where and when you are most likely to successfully intercept and convey your carefully designed proposition to your target.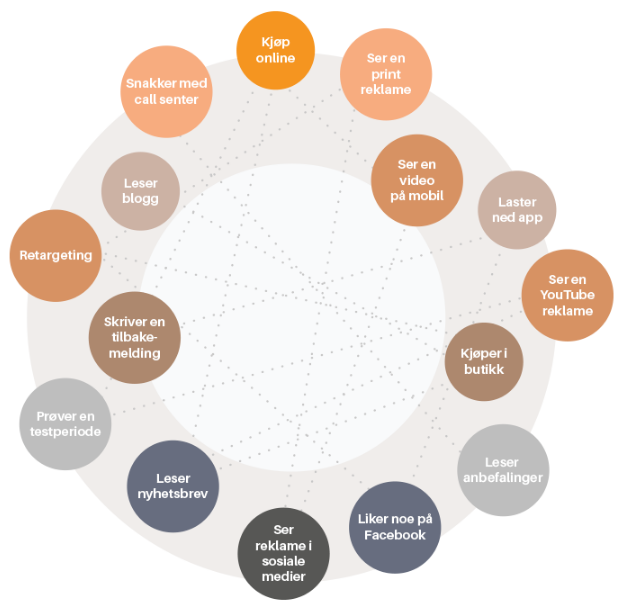 A Deep-Dive into User Behavior
Mapping user behavior is an important part of succeeding with an Omnichannel strategy. Understanding user-specific context and behavior enables the business to develop products and services that reflect actual needs as well as typical user scenarios.
By tracking behavior across digital and non-digital platforms you can learn how to optimize your marketing mix and make use of historic purchasing patterns to capitalize on emerging opportunities. The goal is to understand user behavior in all channels and across platforms.
The Data Warehouse of the Future
To access all of a company's data from one place can be challenging but necessary if you are to benefit from the true potential of digitalization. Businesses often talk about the frustrations of gathering data in one place. Why is this so important? What benefit comes from being able to access information from finance, customer service and product from one place?
Examples of advantages:
360-degree customer view (improving the customer experience)
Predicting behavior through machine learning (anticipating needs)
More efficient stock and logistic management (saving cost)
Martins customer journey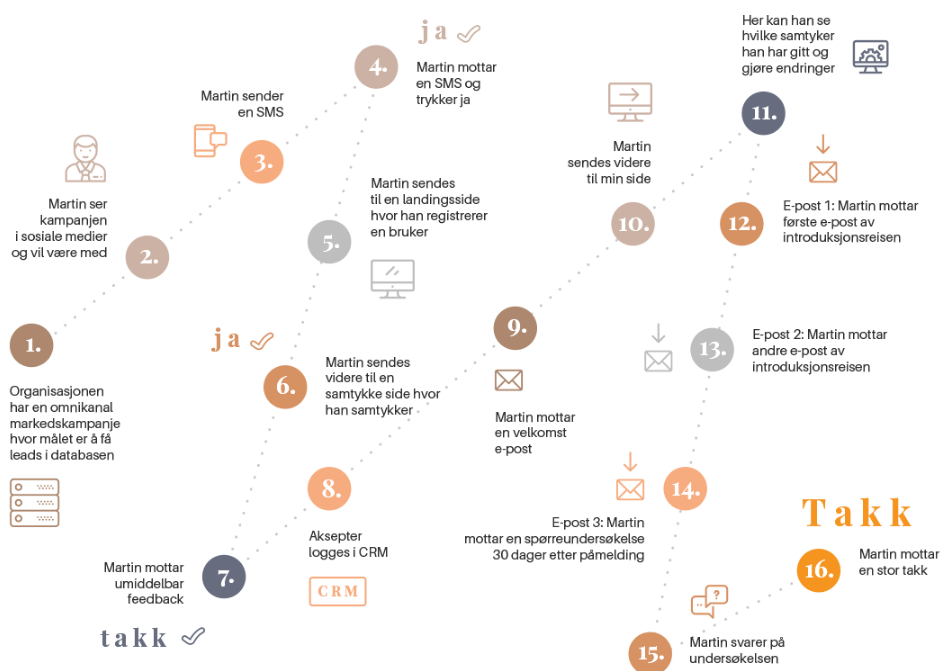 Utilize the potential of Dynamics
Microsoft Dynamics has become a popular choice for businesses worldwide in need of an ERP solution. But while Dynamics is a great product many users fall short when trying to access their own digital data using the Dynamics platform. Ycom has developed a solution for the successful integration of existing data to Microsoft Dynamics. With our solution, you can access and communicate any data from your technical platform regardless of channel.
Data complexity made easy. The GDPR problem solved!
A big challenge while collecting data is to stay within the legal frame that protects the individuals' ownership of personal data. Ycom can simplify and improve the way by which data is stored, analyzed and communicated without compromising individual ownership rights.
How Omnii works